Dental Implants Manhattan
Replacing Missing Teeth With Dental Implants in Manhattan NYC
At Herald Square Dental, we believe that no patient should leave our office with missing teeth, thanks to Dental Implants. Your dental implants are designed to provide a foundation for replacement teeth that look, feel and function like natural teeth. The person who has lost teeth regains the ability to eat virtually anything and can "Smile with Confidence!", knowing that teeth appear natural and that facial contours will be preserved. The implants we use are tiny titanium posts which are placed into the jawbone where teeth are missing. The bone bonds with the titanium, creating a strong foundation for artificial teeth. In addition, dental implants can help preserve facial structure, preventing the bone deterioration which occurs when teeth are missing.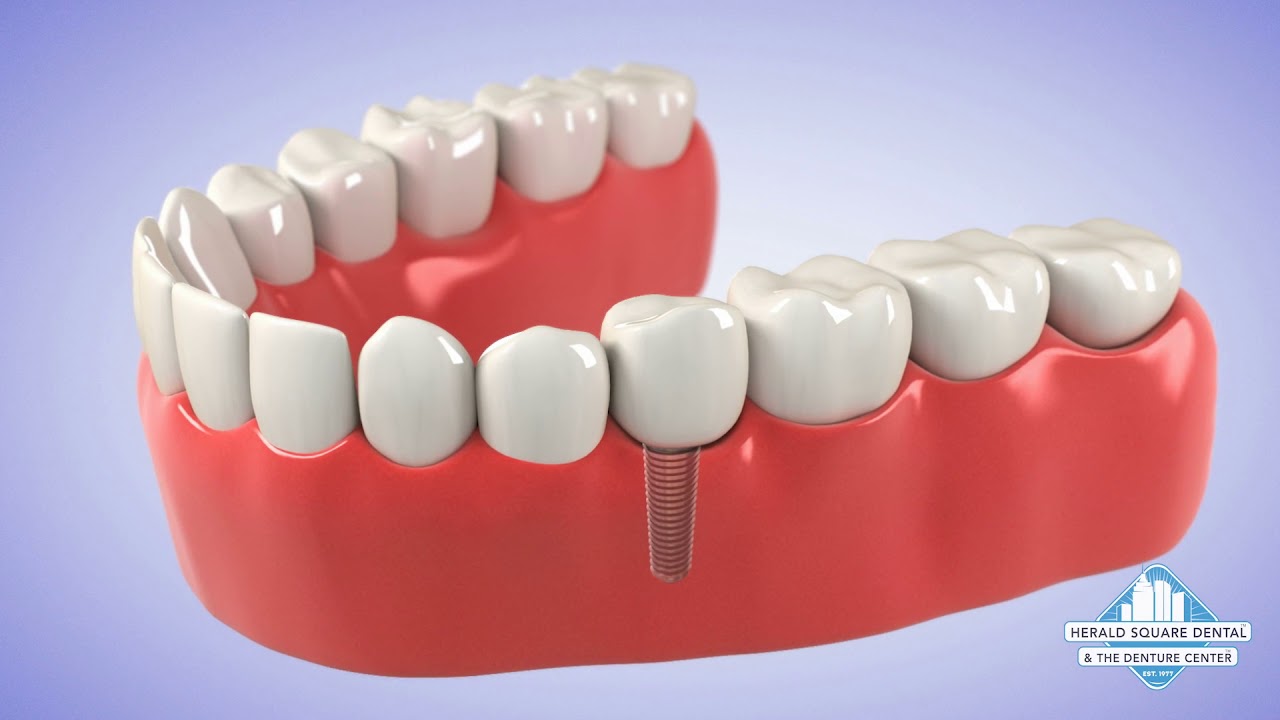 At Herald Square Dental & The Denture Center, Dental implants are changing the way people live! We are inspiring self-confidence through recreating or improving your natural smile, restoring your ability to eat the foods you enjoy and so you can speak and smile with pride! With our expertly placed implants, people are rediscovering the comfort and confidence to eat, speak, laugh and enjoy life.
Christmas & New Year's Dental Implants Special:
Complimentary Dental Implant Consultation
Reclaim the confidence to smile and enjoy the foods you love. Begin with a complimentary consultation and examination for dental implants. This limited time offer covers the following to provide you with an accurate and optimized treatment plan:
Dental Implant Consultation with our Implant Dentist
Digital imaging

Computerized tomography (CT) scan
Radiography (X-rays/Panorex)

Development of your personalized treatment plan and quote
Cannot be combined with any other offers. Regular value $574. Some restrictions may apply. Offer expires 01/31/2024.
Are You Ready to Reclaim Confidence in Your Smile?
If, like many others, you feel implant dentistry is the choice for you, we ask that you undergo a dental/radiographic examination and health history. During the consultation visits, your specific needs and considerations will be addressed by either Dr. Yam or Dr. Shirzadnia. Your questions and concerns are important to us and our team will work with you very closely to help make your procedure a success.
Dental Implant Surgery Manhattan
"I found my experience with Herald Square Dental to be efficient, pleasant, and dare I say enjoyable. I needed a dentist who would provide excellent dental implants as well as a cosmetic dentist and they delivered. Very grateful to find this dentist!"
-John D,
For most patients, the placement of dental implants involves two surgical procedures. First, implants are placed within your jawbone. For the first three to six months following surgery, the implants are beneath the surface of the gums, gradually bonding with the jawbone. You should be able to wear a temporary appliance and function well during this time. At the same time, your NYC dental implants dentist designs the final bridgework or denture, which will ultimately improve both function and aesthetics.
After the dental implant has bonded to the jawbone, the second phase begins. The surgeon will uncover the implants and attach a small healing collar. Our top NYC dental implant dentists, Dr. Yam and Dr. Shirzadnia, can then start making your new teeth. An impression must be taken. Then posts or attachments can be connected to the implants. The replacement teeth are then made over the posts or attachments. The entire procedure usually takes six to eight months. Most patients do not experience any disruption in their daily life.
To schedule your FREE consultation with the top dental implant dentists in NYC- call Herald Square today at Herald Square Dental Phone Number (212) 689-0024 or Click Here!
Dental Implant Options in Manhattan

Download our Dental Implants Brochure

Zirconia implants available!
Single Tooth Replacement Manhattan
Dental implants are metal anchors, which act as tooth root substitutes. They are surgically placed into the jawbone. Small posts are then attached to the implant, which protrude through the gums. These posts provide stable anchors for artificial replacement teeth.
Mini Dental Implants (MDI) Manhattan
Sometimes, one of our expert NYC implants dentists may recommend a zest implant, which is narrower in diameter than a full implant, and has a patented pivoting technology.
A mini dental implant, commonly referred to as a MDI, is made from the same medical grade titanium as traditional dental implants. MDIs are smaller and narrower in size. Their small size makes them the ideal way to replace smaller teeth or fill in tight gaps. MDIs can also be used to secure a bridge or dentures. MDIs are also a great alternative to traditional dental implants, especially when a patient is not a candidate for traditional dental implants.
Despite being smaller in size, mini dental implants are not considered less durable.
While traditional dental implants and mini dental implants are made from the same material, MDIs are often a more affordable option. MDIs are smaller and easier to place, leading to the reduced pricing.
Teeth in a Day Manhattan
Are you looking for a permanent replacement solution for missing teeth? Learn more about how a full set of teeth can be supported by as little as four dental implants! Visit our Teeth in a Day page to learn about these all on 4 dental implant treatments.
Implant Overdenture NYC
At Herald Square Dental we successfully place NYC dental implants daily and insert implant supported custom dentures fabricated in our own on-site laboratory. We can even fabricate premium porcelain dentures for a more natural look, in the same day.
Typically, when a tooth is lost, it is best for your oral health that you have it replace as soon as possible. Missing teeth can impact your bite, as well as your ability to chew or speak. Tooth loss can put extra stress on your remaining teeth as well, resulting in muscle pain in the jaw, as well as headaches. Not to mention- but losing a tooth also can affect your appearance. The following information reviews replacing missing teeth with an implant retained denture:
Ball Attachment Denture
One possible option is to have two implants placed in your lower jaw and a denture made that snaps onto these implants. This option allows for your lower denture to be more stable while chewing than without implants. However, there will still be some movement of your lower denture, and sore spots will occur if any food particles, especially seeds, are caught underneath the denture. As with all removable replacement teeth, you still will need regularly scheduled periodic appointments for denture adjustment.
1. Before
2. Implants Placed

3. Denture Attached

Bar Attachment Denture
Another option involves placing four to six implants, depending on your jaw size or shape, into your lower jaw. After healing is complete, the implants are connected with a custom-made support bar. Your specially made denture will include internal retention clips that attach onto the support bar, enabling the denture to snap firmly into place. This is called an "overdenture." The advantage of this option is that it is much more stable than the first option and allows very little denture movement. Your denture will still be removable for easy cleaning and maintenance.
1. Before
2. Implants Placed

3. Denture Attached

Screw-Retained Denture
A third option for NYC dental implant retained dentures involves placing five or more implants in your jaw and attaching a permanent denture. Your denture is held in place by screws or clasps that secure it to the support posts or bar. It doesn't touch the gum tissue and allows you to clean under the denture without removing it. This denture will replace all your missing lower teeth and will not be removed except at maintenance visits. Although cleaning under your denture without removing it is more time consuming and requires more dexterity, many patients who want a permanent denture will prefer this option.
1. Before
2. Implants Placed

3. Denture Attached

Implant Retained Upper Denture
Depending upon the number of implants to be placed, it may be possible to eliminate the need for covering the roof of your mouth with a complete denture. This option allows you to fully taste your food and gives you a better sense of its temperature. Your denture will feel more natural. You will still have a removable denture, which makes cleaning the support bar and denture much easier.
Advantages of Dental Implants
Improved confidence
Stability during eating
Bone and gum preservation
Improved dental hygiene
Superior esthetics
Nutritional benefits
Dental Implants: Counting the Cost in Manhattan
Dr. Yam and Dr. Shirzadnia, our experts in implantology, understand that choosing between today's available tooth replacement methods can be quite difficult. That's why we have come up with this guide of dental implants facts and figures. It is our goal, at Herald Square Dental, to help our patients make an informed decision about replacing their teeth—and feel good about it.
"My dentist in NYC is Herald Square Dental. I thought that getting dental implants in Manhattan would cost me a lot but I was wrong. With my insurance plan my copay was low. The dentist was great and the staff was all very friendly. I have recommended this NYC dentist to several friends."
-Melly E,
Lasting a Lifetime
Did you know that dental implants can last 2-3 times as long as other teeth replacement methods, such as bridges and dentures? That's right! In fact, the longevity of our dental implants is often more than 25 years. Clearly, dental implants beat out all other teeth replacement methods when it comes to longevity and are well worth the investment. When all is said and done, dental implants end up paying for themselves.
Going Without
A little-known fact: Regular stimulation, as is done when chewing, biting and speaking, keeps the jawbone from deteriorating. So, if a tooth is missing, these functions cannot be executed, and deterioration sets in immediately. In fact, a year without a tooth can result in a 25% loss of supporting jawbone. Thanks to dental implants—titanium screws that fuse with bone—stimulation is provided, and jawbone mass is saved and maintained.
Living Your Best Life
Perhaps the greatest advantage of dental implants is the freedom they provide. The luxury of eating whatever you want, laughing with reckless abandon, and smiling ear to ear—these are priceless benefits indeed.
Does insurance cover dental implants?
Most insurance plans do not cover implants, but we are here to help you understand yours. We know how frustrating it can be to wade through insurance plans and benefits, so we are here to provide assistance in discerning the details of your dental insurance policy and choosing the treatment that would best accommodate your goals and your budget.
Dental Implants: Estimating Your Cost
The exact cost of dental implants depends on a variety of factors related to each individual patient's case. So, call us to schedule a consultation and we will give you the most accurate estimate  for your dental implants at that appointment. We look forward to putting a smile back on your face.
For more information about the cost of dental implants or to schedule a consultation with Dr. Yam or Dr. Shirzadnia, call our office Herald Square Dental Phone Number (212) 689-0024.
"I looked for a long time for a New York cosmetic dentist before finding Herald Square Dental in Midtown. I have been very happy ever since. I had two dental implants done and also teeth whitening. I am very satisfied with my new smile."
-Don M,
Dental Implant Frequently Asked Questions (FAQ)
How much do dental implants cost?
While the upfront cost is often more than that of alternatives such as bridges and dentures, dental implants outlast those approaches by several decades. This increased longevity makes implants the more affordable choice in the long run.
Can I replace all of my teeth with dental implants?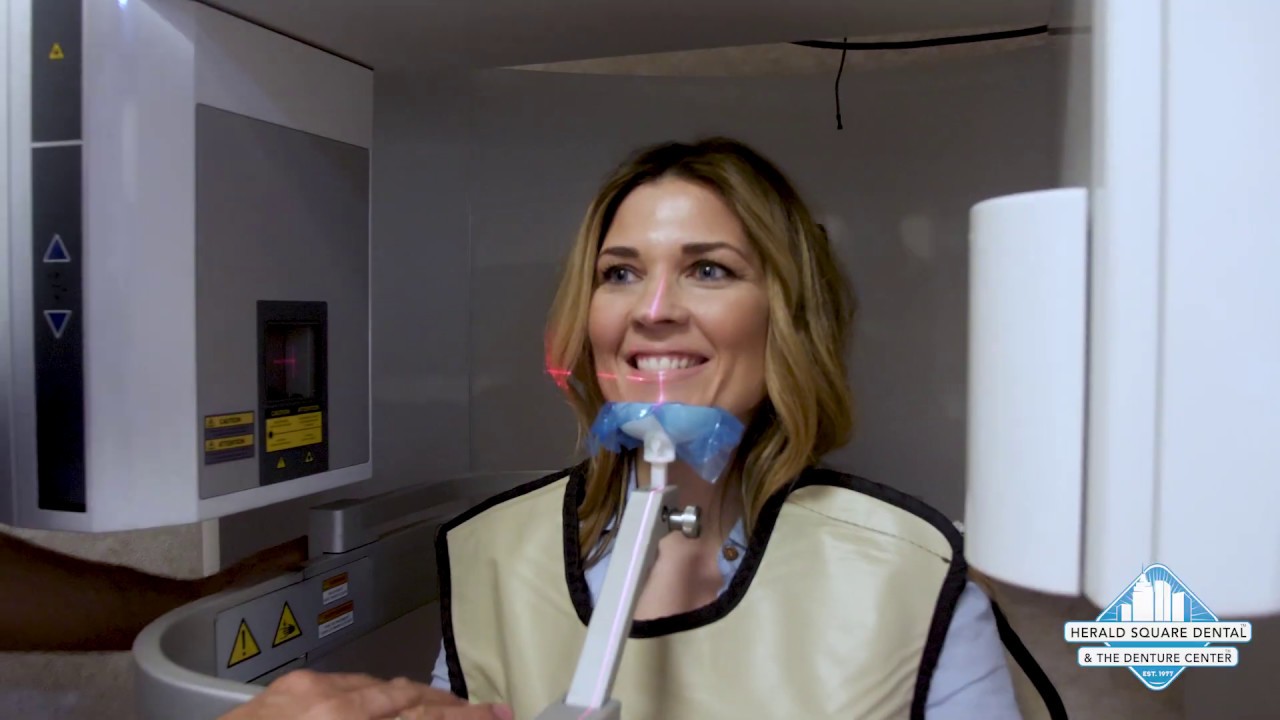 What if I am missing all my lower teeth?
Although many patients have no problem wearing an upper denture, some of them might find it difficult to wear and eat with lower dentures. Several implant-supported replacement options are available if you are missing all of your lower teeth.
What if I am missing all my upper teeth?
A similar range of treatment options is also available for your upper jaw. However, because the bone is not as hard as that in the lower jaw, people often need more implants to support their new replacement teeth.
What if I have been told that I am not a candidate for conventional implants?
Even those patients that have been told that conventional implants were not an option can get excellent high performing results from mini-implants. For example: a patient who did not have sufficient bone thickness to accept a couple of large implants to anchor a full denture can get a structurally superior solution by distributing the load evenly among 4-6 mini-implants or zest implants. This leads to a less invasive, lower costing implant that requires less healing time and no need for additional bone grafting.
What are my options if dental implants fail?
How we at Herald Square Dental treat implant failure depends on its cause.
Whatever the situation is that has brought you to our renowned dental practice, an evaluation by one of our expert implant dentists will provide the information needed to create a treatment plan for your particular case. Herald Square Dental, NYC are leaders in implant placement, we are proud of the fact that our dental implant success rate closely mirrors the success rate overall, as reported in scientific literature, of 98 percent. Our dental implants usually last a lifetime.
If you have missing teeth or are experiencing a dental implant failure, we welcome you to our practice. Thanks to today's technology and our dentists' exceptional expertise, we have treatment options, and we would be happy to discuss them with you. More than anything, we want to restore your smile to full health and beauty.
What can cause dental implants to fail?
While dental implants are traditionally extremely successful tooth-replacement procedures, failure is possible. Some of the reasons for dental implant failure are:
Infection
Bone loss
Dental trauma
Lack integration with jawbone
What are the symptoms of dental implant failure?
Contact us immediately if you have any of the following symptoms, as they may be signs of early or late dental implant failure:
Gum recession around dental implant
A loose or shifting implant
Severe pain or discomfort
Difficulty chewing or biting
Swelling or inflammation of the gums
Do You Have Additional Questions About Dental Implants?
Contact our office to schedule a dental implants consultation and find the answers you need.
Dental Implant Reviews Manhattan
Herald Square Dental
5
out of
5
stars based on
21
Dental Implants and Implant Retained Dentures reviews.
---
Patient Review By Stacey R
Dr. Yam placed an implant for my missing tooth today. I was super nervous, so I opted for the nitrous oxide inhalation mask and was able to wear my earbuds to distract myself. His assistant Amer kept me calm and patiently answered my 500 questions, and the actual surgery was so fast! Felt like 5 minutes. They showed me the radiographs immediately after, which was super interesting! So far no discomfort, and I would recommend this practice and especially Dr. Yam to anyone who is a wimp like me!
- Stacey R
5

out of

5

stars
by
Stacey R
on
Patient Review By Brendath K
My Doctor Alfred Shirzadnia and his Dental Assistant Mr. Ermal Serdari are the most amazing professionals persons I ever met . Since day one they treat me with compassion and kindness, they provided for me the emotional stability that I was loosing after being attacked and punched on my mouth and damaged few of my frontal teeth in the subway Station after work day. Today 1/26/2023 Dr.Shirzadnia has giving me my smile back . I'm very great full for his knowledge and work done on me, I can only say, Thank you Thank you.
- Brendath K
5

out of

5

stars
by
Brendath K
on
Patient Review By Pat H
I was completely terrified of the dentist before meeting Dr. Shirzadnia. I was so afraid that I would have to be sedated before any type of treatment. After my experience with Dr. Shirzadnia (which included a painless dental implant) I no longer need to be sedated before treatment; all because of Dr. Shirzadnia's compassionate & caring nature. He is truly a master at his craft.
- Pat H
5

out of

5

stars
by
Pat H
on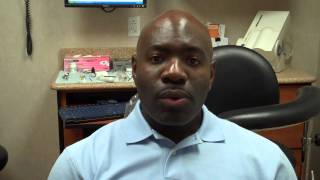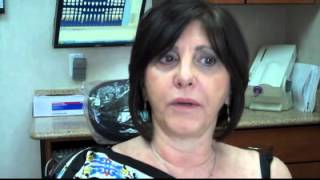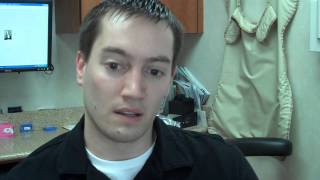 The implants have been great. The work Dr Alfred Shirzadnia did was fast, not painful, and has improved my life. I am very very satisfied.

-Glenston B
Free Dental Implants Consultation
Contact our office to learn more about this offer and to schedule your free dental implants consultation.