Emergency Dentist In Midtown Manhattan
Same-Day Dental Appointments In Manhattan NYC
---
Urgent Dental Care In Manhattan
Have a dental emergency? Need urgent care? Herald Square Dental's emergency dentists offer same-day treatments that will relieve your symptoms and restore your damage teeth. Whether you're already a patient of ours or you're looking for a new dentist, we welcome you and your dental emergency!
If dental insurance is a concern of yours, we accept most dental PPO insurance plans. Looking for an emergency dentist no insurance? We offer affordable fees with payment options, so you can get the emergency dental treatment you need. Not having dental insurance should not get in the way of getting the dental care you deserve. If you need treatment beyond the emergency care you receive, we'd be happy to set up a payment plan that would work for you.
The quicker you take action for your dental emergency needs, the better off your oral health will be in the long run. There is no reason to be in pain when help is available. Whether your dental emergency involves mild or extreme pain, swelling, or a broken/chipped tooth, call us today to schedule a same-day appointment.

---
Manhattan 24-Hour Emergency Dentist
Unfortunately, we do not offer 24-hour emergency services. Can I go to the ER for a dental emergency, you ask? Can I go to urgent care for severe tooth pain? What most people don't realize is that emergency rooms and urgent care are not normally equipped to handle dental concerns, and they will most likely send you to a dental office that provides dental emergency services. That's us! We are available 24/7 via online chat and 6 days a week for your convenience.
---
Can I get an emergency dentist appointment in Manhattan?
It's after hours and you have a dental emergency. We are here for you. Our online chat is available 24/7, and we return calls first thing the following morning. As soon as our office opens, we will schedule an emergency appointment for you.
Office Hours
Monday through Friday:
8:00 AM - 7:00 PM
Saturday:
9:00 AM - 4:00 PM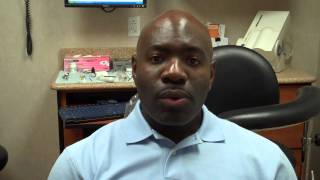 ---
What should I do if I have a dental emergency in Manhattan?
If you have a dental emergency, call us immediately, and we'll see you the same day. If you have a dental emergency after hours, use our 24/7 online chat. We'll return your call when our office opens the following day.
---
What is a dental emergency?
Any dental issue that involves pain is a dental emergency. However, you may have a dental emergency that does not hurt initially, such as a cracked tooth, but eventually causes you pain when the nerves in the root become damaged. Not sure if your situation qualifies for urgent care and requires immediate attention? Check out the list below:
Emergency dental infections management
Emergency pain management services
Emergency extractions, oral surgery
Substantial toothache
Significant sensitivity
Swollen or sore gums
Jaw pain
Infection
Broken, cracked and chipped teeth
Broken fillings
Lost crown
Emergency root canal treatments
Emergency denture repairs
Emergency quality same-day dentures
Emergency Restorative Services
Fillings, crowns, bridges, dentures, implants
Braces repair and removal
---
Non-Emergency Dental Procedures
When is it safe to wait? Your conditions are considered non-urgent if you are concerned about any of the following:
Missing tooth/teeth
Treatment of cavities that do not hurt
Regular cleanings, exams, and X-rays
Follow up visits
---
Types of Dental Emergencies
The most common dental emergencies range from abscesses or infections, including swollen gums, to tooth trauma and cracked, chipped, or broken teeth, from toothaches and jaw pain to lost fillings, crowns, and bridges. Read on for details.
Abscesses
Did you know that one in every 2,600 adults seek emergency care for an abscess? An abscess is when a pocket of pus develops in the gums or at the base of a tooth as a result of advanced tooth decay, failing root canal treatment, tooth trauma, or untreated periodontal disease.
If you think you might have an abscess, call us immediately. Initial mild pain will most likely worsen the longer you wait. The infection involved in an abscess, if left alone, can spread, making symptoms worse.
Your emergency treatment for an abscess includes draining the infected area and prescribing antibiotics to clear up the infection. If a root canal is required, we will do that during your emergency appointment.
Infections
Abscesses and advanced gum disease are examples of infections that can develop over time and become a dental emergency. We recommend treating infections immediately before they lead to bone deterioration and tooth loss.
Trauma
Severe traumatic dental injuries, such having a tooth knocked out, require emergency treatment. In fact, it is ideal for you to get emergency care within 30 minutes of the accident. Bring the tooth with you if you still have it, holding it by the crown rather than the root. If you're able to place it back in the socket or keep it between your gum and cheek, that's ideal. If not, place it in a cup of milk and bring it with you. Keeping it moist is very important.
To keep yourself comfortable until you arrive for your emergency treatment, gently rinse your mouth with warm salt water to help disinfect the area and apply a cold compress to minimize swelling.
Do not come in for a dental emergency is you've sustained a mild injury. For example, if you've bloodied your lip or bitten your tongue, the sustained injuries will heal on their own. If you've bitten a piece of your tongue off, go to a medical emergency room.
Cracked, Chipped, and Broken Teeth
Tooth decay, mouth injuries, the eating of hard foods, and the opening of bottles with your teeth are all things that can all lead to chips, cracks and breaks in your teeth. And in addition to being unsightly, broken teeth that have sustained significant trauma often requires emergency care. Chipped teeth don't often require emergency treatment. Cracked teeth are not always noticeable, but even without symptoms, cracked teeth should be evaluated before they result in tooth loss and decay.
Lost or Damaged Restorations
If you've lost or damaged a filling, crown, onlay, veneer, or bridge and the tooth was previously treated with root canal therapy, it's important that you come in right away. You will most likely feel no pain since the tooth has no nerves, but the tooth is susceptible to further damage. If you have not had a root canal on the tooth in question, you're probably feeling pain due to the nerves' exposure to air, liquid, and food. Do not try to wait out the pain, come in right away.
---
Dental Emergency FAQs
What is a dental emergency?
A dental emergency is any situation that poses an immediate threat to the health of your teeth and supporting tissues. Dental emergencies are caused by trauma to the mouth or infection. If you encounter any type of dental emergency, call to schedule a same-day appointment with us immediately.
How soon should I be seen?
You should be seen as soon as possible. Our office offers same-day appointments for most conditions during normal business hours, so call us to schedule yours today. Herald Square Dental Phone Number (212) 689-0024
What to do if a tooth is knocked out?
For permanent teeth that are knocked out, rinse the tooth and put it back in the socket. If you can't get the tooth back in the socket, place it in a container of milk or water to keep it moist. Do not touch the roots, but handle the tooth by the crown, and don't brush it. Contact us immediately to schedule an appointment for emergency treatment. The sooner you get to us, the more likely your tooth can be saved. If your child's baby teeth are knocked out, leave them out and contact us immediately for instructions. Herald Square Dental Phone Number (212) 689-0024
What should I do if my denture breaks?
Dentures that are cracked or broken count as a dental emergency and should be replaced as soon as possible. Our friendly, experienced team at The Denture Center is always happy to help with any denture problems, whether they need to be repaired or replaced. Call us to schedule your appointment.
What can I do if my dental crown falls off?
Keep your dental crown safe and bring it with you to our office. Often, we can attach the crown back into place. Sometimes, if the crown is damaged or not fitting correctly, it will need to be replaced. Call us today.
What happens if I chip a tooth?
If you chip a tooth, several things can happen. A chipped tooth can:
Cause injury to the tongue.
Become worse and lead to further breaking.
Damage a tooth with fillings
To avoid the risk of causing additional damage to your teeth, call us to schedule an appointment.
Does an emergency dentist cost more?
Not normally. The cost of your emergency dental care depends on the treatment you need. We can help you get the quality care you deserve with financing options and special offers. We work with most major insurance plans. Please visit our payment and insurance page for more information.
---