Cosmetic Dentist Midtown Manhattan NYC
General & Cosmetic Dentistry in Manhattan
As the premier provider of cosmetic and implant dentistry in Manhattan, NYC and the surrounding communities for over 40 years, Herald Square Dental, the office of Dr. Ian D. Pasch, Dr. Arthur Yam and Dr. Alfred Shirzadnia, is proud to welcome you to our practice.
We offer unparalleled, quality dental treatment in our comfortable, state of the art setting and believe our patients deserve only the most personalized, safe, and gentle care. Our highly experienced and friendly team has one goal in mind: to provide you with excellent dental care that will help you maintain your healthy smile or help you to restore your smile to full health.
Address
Herald Square Dental & The Denture Center
224 W 35th Street 16th FL
New York, NY 10001
Office Hours
Monday through Friday:
8:00 AM - 7:00 PM
Saturday:
9:00 AM - 4:00 PM
Are You Looking For A Dentist in NYC?
---
Dear Herald Square Dental Family,
To provide much needed services to our community, Herald Square Dental and the Denture Center is open for regular dental care. 
If you need dental care, please call our office at Herald Square Denture & Dental Center Phone Number 212-689-0024 during normal business hours to schedule an appointment. For the safety of our patients and our staff we will be adhering to strict social distancing regulations and strict infection control procedures. All treatment will be by appointment only and unaccompanied unless you have restricted mobility. You will be provided a mask and will be seated in a private treatment room upon arrival.
We hope you and your family are staying safe during this crisis. It is our honor and privilege to serve you!
On behalf of Drs. Pasch, Yam, Shirzadnia, and our team, please be safe, stay well and we will see you soon.
---
Give Us a Call Today!
Herald Square Denture & Dental Center Phone Number

212-689-0024
Request Online Video Appointment Request In-Person Office Appointment
What Sets Us Apart
We believe that no two patients' cases are the same and that you should always have access to the doctor who knows you and understands your individualized dental care needs.
See what our patients are saying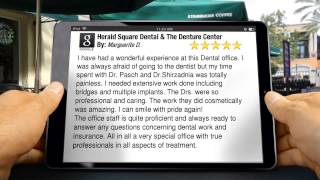 Take A Tour of our Office
Patient Review By Valarie P
I have been a very satisfied patient for a little under 8 years. My care has always been great. They have my utmost respect. Dr. P is one of a kind and always puts that smile back on my face!! I will never go to another dental office. They treat you like family!!!
– Valarie P
by Valarie P on 12/30/2020